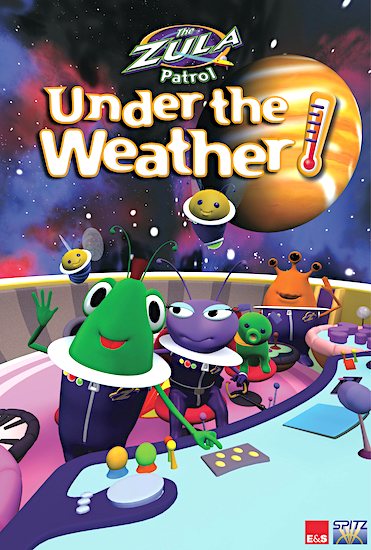 Zula Patrol : Under the Weather
Three adorable aliens (and their pet) fearlessly set out from Planet Zula to make amazing discoveries about science and Space, 'the Final Funtier'.
In this film, the stalwart heroes of the Zula Patrol (good-natured but bumbling green leader Bula, ace purple pilot Zeeter, and orange, three-eyed, absent-minded professor Multo), are on an expedition collecting samples of weather for Multo's research.
The Zula trio inadvertently hurt the feelings of their loyal pet Gorga, and it decides to leave Zula and find another planet to live on.
Villain Dark Truder then tricks Gorga into helping him with his latest nefarious scheme to rule the Universe.
On discovering this, the Zula Patrollers go after him – and in the process learn many things about weather, both terrestrial and interplanetary.
Trailer and full preview below.
Download the Narrative Script, and the educational activities: Create a Cloud in a Jar, Gauge the Wind, Make a Straw Thermometer, Keep a Cloud Chart, Become a Water-Dust Partner, Make a Rain Gauge and Reach for the Rainbows.

Additional educational materials include Sky-High Science 1, Sky-High Science 2 and a Sky Poster.
More images from the show here.
Film Type
KS2 / Families
Length: 23min

Also available in Arabic, Czech, Finnish, Greek, Hungarian, Italian, Japanese, Mandarin, Polish, Portuguese (Brazil), Russian, Spanish (Mexico & Latin America), Swedish and Turkish
Trailer
 

Full preview