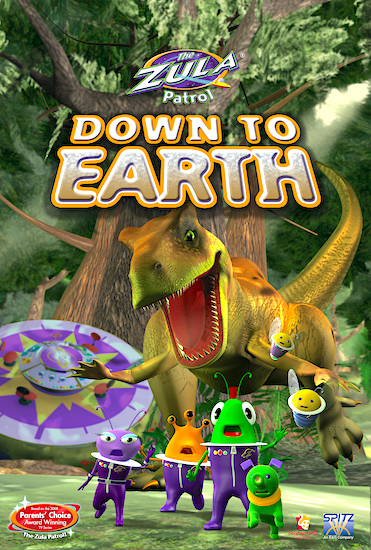 Zula Patrol : Down to Earth
Three adorable aliens (and their pet) fearlessly set out from Planet Zula to make amazing discoveries about science and Space, 'the Final Funtier'.
In this film, the stalwart heroes of the Zula Patrol (good-natured but bumbling green leader Bula, ace purple pilot Zeeter, and orange, three-eyed, absent-minded professor Multo), are on a routine fossil-hunting expedition.
They accidentally turn up evidence that the villainous Deliria Delight has been travelling back in time to Earth's prehistoric past, to illegally dump her company's toxic trash.
The Zula Patrollers must find and catch her, before her actions result in catastrophic consequences.
In the process, our heroes learn about the formation and development of planet Earth, and the life forms that call it - and have called it - home.
Trailer and full preview below. Still images from the show here.
Download the Narrative Script and the Educator's Guide.
Film Type
KS2 / Families
Length: 23min

Also available in Arabic, Cantonese, Czech, Greek, Japanese, Lithuanian, Mandarin, Polish, Portuguese (Brazil), Romanian, Russian, Spanish (Mexico & Latin America), Swedish, Turkish and Vietnamese
Trailer
 

Full preview