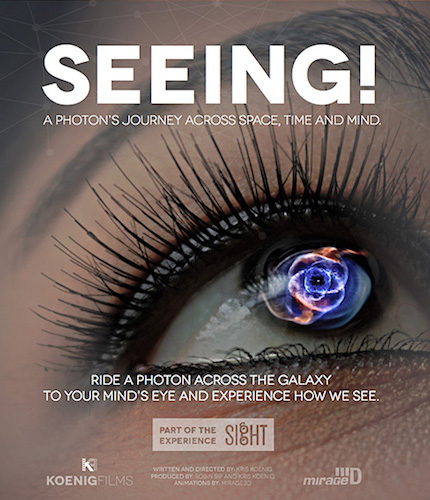 SEEING! - A Photon's Journey Across Space, Time & Mind

Stunning 360° visuals of landscapes, skyscapes, wildlife, humanity and space are used to tell the story of light, sight and vision.
We begin with a photon's creation inside a distant star and follow its immense journey across the galaxy into the eye of a young stargazer. As the photon enters, we learn about the structures of the eye, their functions and we ride along the optic nerve. The photon's energy is converted into electrochemical impulses that travel the neurochemical pathways of our brain, resulting in an image in our mind.
Also addressed are the ways technology enables us to restore vision and prevent various diseases that affect sight.
Narrated by Neil deGrasse Tyson. 
Full preview below and free educational workbook available here.
Film Type
Length: 26min
KS3 - KS5  /  Adults
Also available in German.