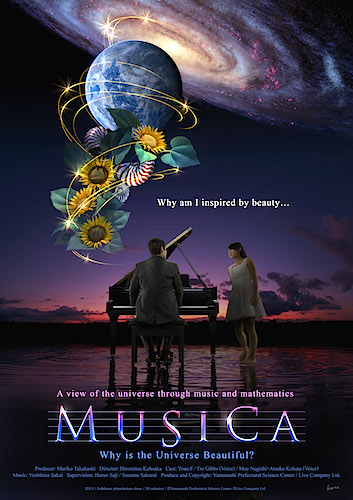 MUSICA - Why is the Universe Beautiful?

A unique 360° film presenting the idea that art, music, physics and mathematics are fundamentally related and an integral part of the beauty of the Cosmos.
Expanding on the ancient philosophical concept of musica universalis (the harmony of nature), this educational and cross-disciplinary film offers one explanation as to why we find the natural world so inspiring and beautiful.
With vivid, detailed descriptions of the spiral designs inherent in natural phenomena such as DNA, sunflowers and galaxies, the concepts of harmony and harmonics resulting from maths and physics are demonstrated to be universally present.
"Spiritual without being offensive" - UK secondary school teacher
"So emotional, a truly wonderful experience, it will stay with me forever. Many, many thanks, it was beautiful" - UK planetarium visitor
Full preview below.
Film Type
Length: 26min
KS4-KS5, Adults
FREE: What's the Point of Maths? booklet for KS3-KS5 from the National STEM Centre.