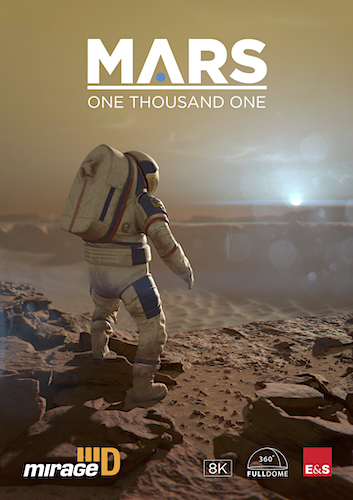 MARS One Thousand One
The first men and women to travel to Mars are alive and amongst us today.
The return trip to Mars will last just under three years.
Imagine the near future and follow well-known science journalist Miles O'Brien as he covers humanity's first great 1,001-day adventure.
The crew of the IRIS 1 encounter dangers along the way, including a solar coronal mass ejection. We witness the international team of three men and three women living and working together, braving the unknown, as they attempt to put the first human footprints on the Red Planet.
What feelings will the first astronauts to Mars experience and what thoughts will be foremost on their minds?
MARS One Thousand One is a stunning film that brings home the reality of manned Mars exploration, the greatest engineering feat ever to be attempted. The film is set just far enough into the future to seem real, yet with science-fictional touches to indicate it's still a little way off.
Experience the story we all hope to witness in our lifetimes: the first journey to the Red Planet.
Trailer below (please contact us for links and passwords to preview all three versions of the film in full).
Download the narrative scripts for all three versions here. Still images from the film here.
Film Type
Upper KS2 - KS5 / Adults
Full version: 52min
Medium version: 42min
Short version: 30min

Also available in Arabic, Dutch, German, Japanese and Mandarin.