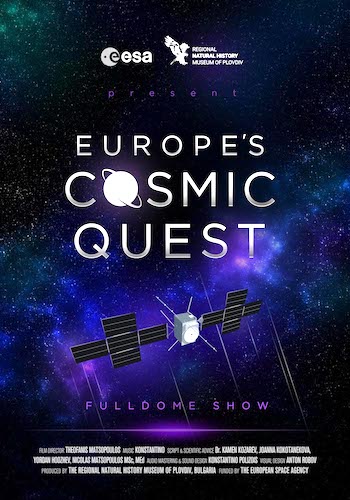 Europe's Cosmic Quest
Discover some of the most exciting robotic space missions of the European Space Agency (ESA), as they uncover mysteries of our own Sun and the farthest reaches of the Universe.
Learn about highly successful missions like Planck and ATHENA, exploring the electromagnetic spectrum from microwaves to gamma rays.
Embark on a tour of the Solar System, beginning at the Sun and the new Solar Orbiter mission; and then on to the planets with exciting classic, and upcoming, missions like BepiColombo, Venus Express, ExoMars, JUICE, and Cassini.
The amazing Rosetta mission alone will transport you to the comets and outer reaches of the heliosphere.
This 360° film concludes with a peek at technologically advanced missions of the future, as they prepare to study stars and exoplanets.
Trailer and full preview below. Download the Narrative Script.
Film Type
KS3 - KS5 / Adults
Length: 36min

Also available in Bulgarian.
More still images here.


Trailer

Full preview